Welcome to Pawhaven Cattery
Located in Newport News, VA
est January 1999

Pawhaven is taking a break and will not have kittens for awhile. Planning to return to showing and breeding in 2010 or 2011 after we move and get settled.

Pawhaven is a small family run cattery, whose prime concern is the health, happiness, temperment and preservation of this wonderful breed! We are a new cattery that just opened it's doors in January 1999. We are looking forward to spending many happy years showing, breeding, and loving our most treasured companions! Our Maine Coons are registered and shown in CFA. We will be breeding for Health, Purrsonality, Type, Size and Color. All of our breeding cats will be tested for HD and HCM. None of our cats are caged; these cats are members of our family and are treated as such. We are a small cattery emphasizing quality not quantity so we will have one or two litters per year, because of this we will welcome kitten reservations. To ensure that each kitten is fully socialized and have completed most health checks and shots our kittens will not leave us before 12 weeks, for breeding purposes a kitten may be evaluated for a longer period of time. We will evaluate each prospective buyer's home before selling a kitten we reserve the right to deny anyone one of our kittens. A kitten sold as a pet will be spayed/neutered before going to their new home.



pictured at 7 months

This is Purrbodys Maroochydore of Pawhaven
Brown Classic Tabby with White
DOB: 10/20/98
Sire: GRC Purrbodys Tasmanian Legend
Dam: GRC Purrbodys Koordarrie

Roo is the first male in my breeding program. He did very well at CFA Shows in the kitten class as well as Championship class. He brought home several beautiful Rosettes during the 1999 - 2000 show season. He obtained the title Grand Champion April 15 2000. Roo has also been tested for HCM on March 25, 2000 and February 24, 2001 ......both results showed no signs of HCM.

pictured at 8 months old.

This is CH Makanacoon Popoki Kuini of Pawhaven.
Brown Classic Tabby
DOB: 8/31/00
Sire: GRC J-Nine Go 4 The Gusto of Makanacoon
Dam: CH McKittyCreek BeanBaby of Makanacoon

We call her Kiki. She has a beautiful classic pattern and great personality. She loves to play. She did nicely at the shows as a kitten, she took it all in stride. She became Champion on 6 May 2001 at the York PA show. Kiki had her heart tested for HCM 29 September 2001 and tested clear.
This is Makanacoon's Maka Lani (which mean Heavenly Eyes)
Brown Classic Tabby
DOB: July 6, 2000
Sire: GRC Purricoon's Bohemian Zebulon of Makanacoon
Dam: CH Makanacoon's Wahine Okika

Maka may be a small girl but she is very typey. She's a very happy go lucky girl who loves to be the center of attention. Sometimes good things do come in small packages.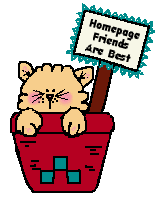 You are visitor #
as of 11 Nov 99.




This page was updated 19 Nov 2001.
Copyright 1999-2002. All rights reserved. All photographs in this web page are the property of Pawhaven Cattery. Pictures were taken by Larry Johnson, Chanan or Angelina Starr.